Aug 27, 2020
Give your love to the Irish & Celtic Music Podcast community.
Lilt, Altan, The Tannahill Weavers, The Rogues, Kyle Gryphon, Eileen Ivers, McKasson & McDonald, Poisoned Dwarf, Gerry O'Beirne, The Jig Is Up!, The Kilt Lifters, West of Mabou, The Gartloney Rats, Avourneen
I hope you enjoyed this week's show. If you did, please share the show with ONE friend.
The Irish & Celtic Music Podcast is here to build our community and help the incredible artists who so generously share their music with you. If you hear music you love, buy the albums, shirts, and songbooks, follow the artists on Spotify, see their shows, and drop them an email to let them know you heard them on the Irish and Celtic Music Podcast.
Remember also to Subscribe to the Celtic Music Magazine. Every week, you will get a few cool bits of Celtic music news. It's a quick and easy way to plug yourself into more great Celtic culture. Plus, you'll get 34 Celtic MP3s for Free, just for signing up today.
VOTE IN THE CELTIC TOP 20
This is our way of finding the best songs and artists each year. Just list the show number, and the name of as many bands in the episode as you like. Your vote helps me create next year's Best Celtic music of 2020 episode. Vote Now!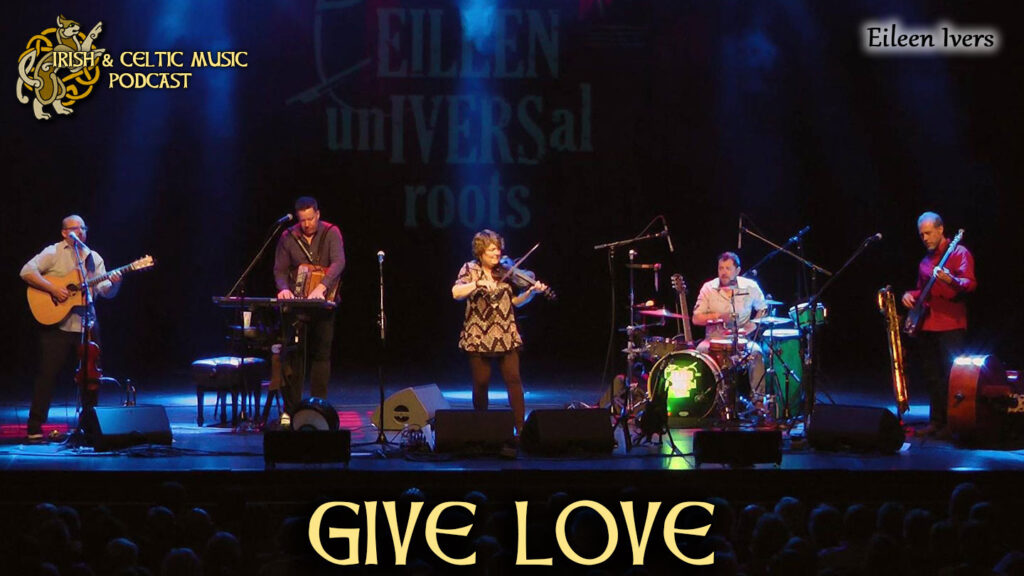 THIS WEEK IN CELTIC MUSIC
0:03 - "The Orange Rogue / Brenda Stubbert's" by Lilt from X
4:38 - WELCOME
5:12 - "The Tullaghan Lasses / The Cameronian / The Pigeon on the Gate" by Altan from The Gap of Dreams
9:02 - "The Jeannie C" by The Tannahill Weavers from Orach (The Golden Anniversary)
13:35 - "The Panda" by The Rogues from 25...and Live!
18:55 - "Astral Hunt" by Kyle Gryphon from Isolation
22:13 - CELTIC FEEDBACK
26:02 - "Gratitude" by Eileen Ivers from Scatter the Light
29:30 - "Flander's Shore" by McKasson & McDonald from Harbour
33:19 - "King of the Pipers" by Poisoned Dwarf from Bolt the Door
40:09 - "The Last King of Feothanach" by Gerry O'Beirne from Swimming the Horses
43:44 - CELTIC PODCAST NEWS
45:17 - "Tuamgraney Castle - Belfast Hornpipe" by The Jig Is Up! from On Yer Toes!
49:07 - "Captain Roberts" by The Kilt Lifters from Pour Another Round
51:23 - "Caiomhin's Jigs" from West of Mabou from The Bridge
Pronunciation: key-veen
55:34 - "Give Love" by The Gartloney Rats from Some Drunken Nights (Irish Music Buried Treasures)
1:00:41 - CLOSING
1:02:03 - "The Lowlands of Holland" by Avourneen from Sparrow
The Irish & Celtic Music Podcast was edited by Mitchell Petersen with Graphics by Miranda Nelson Designs. The show was produced by Marc Gunn, The Celtfather. To subscribe, go to Apple Podcasts or to our website where you can become a Patron of the Podcast for as little as $1 per episode. Promote Celtic culture through music at http://celticmusicpodcast.com/.
WELCOME TO CELTIC MUSIC
* Helping you celebrate Celtic culture through music. My name is Marc Gunn. I am a Celtic musician and podcaster. This show is dedicated to the indie Celtic musicians. Please support these artists. Share the show with your friends. And find more episodes at celticmusicpodcast.com. You can also support this podcast on Patreon.
CELTIC PODCAST NEWS
THANK YOU PATRONS OF THE PODCAST!
Because of Your kind and generous support, this show comes out every week. Your generosity funds the creation, promotion and production of the show. It allows us to attract new listeners and to help our community grow.
As a patron, you get to hear episodes before regular listeners. When we hit a milestone, you get an extra-long episode. You can pledge a dollar or more per episode and cap how much you want to spend each month over on Patreon.
Your contribution also allows us to support the Middle Tennessee Highland Games & Celtic Festival and the Texas Scottish Festival.
A super special thanks to our newest patrons: Ivan M, Scott J, Stephen G, Jenna and Paul Vigansky.
You can become a generous Patron of the Podcast on Patreon at SongHenge.com.
TRAVEL WITH CELTIC INVASION VACATIONS
Every year, I take a small group of Celtic music fans on the relaxing adventure of a lifetime. We don't see everything. Instead, we stay in one area. We get to know the region through its culture, history, and legends. You can join us with an auditory and visual adventure through podcasts and videos. Learn more about the invasion at http://celticinvasion.com/
#celticmusic #irishmusic #celticpodcast
I WANT YOUR FEEDBACK
What are you doing today while listening to the podcast? You can send a written comment along with a picture of what you're doing while listening. Email a voicemail message to celticpodcast@gmail.com
Emanuel Nervo emailed: "Hi Marc, Thank you for the update mails. It has been a while for me to listen to your podcast. A lot of things happened and got distracted. Normally I listen to your show via podcast when doing graphic and web design work on the computer. It keeps me upbeat and chilled. Noe I look forward to catch up.
Virtual hugs to you and other listeners in this crazy time.
greetings from the Netherlands."
Michael Cornett emailed a photo: "Hi Marc; I just wanted to say thanks for the show; I've been listening for years and now more than ever it's a source of joy for me. If the current times weren't crazy enough, I was laid off from my job last week so I'm not only dealing with avoiding the virus but also trying to find a new job. The music you play has been part of my "keep sane" program.
I also want to thank you for promoting music by women and other minorities. As a gay man who's more comfortable at a pub or ceili than a dance club, that means so much to me. I'm looking forward to your queer music special!
Attached is a photo of myself, listening while I take a walk outside, getting what exercise I can.
Again, thank you."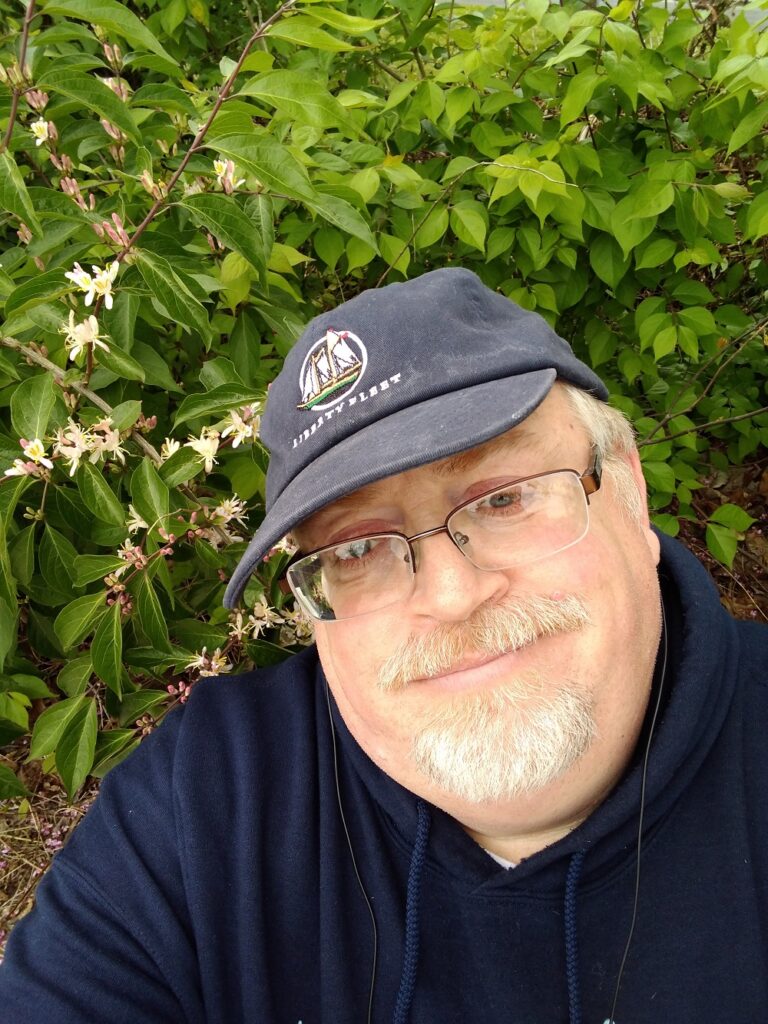 Ginnie Vigansky emailed: "Dear Marc, First, let me say how grateful I am for your podcast and how much I appreciate your passion for Celtic music and your desire to help this wonderful community. I have not had the opportunity to download any special downloads yet, for now I'm just happy to be part of this wonderful community you are building.
I hope you will indulge me while I share my history of your podcast with you.
I have always been drawn to Celtic music for whatever reason and have always enjoyed finding new Celtic artists. In the early 2000s while at university I discovered a Celtic music show on our local public radio and quickly became a regular listener. I listened for many years and it became part of my Sunday morning tradition.
Shortly after meeting a very special man (who eventually became my husband) in 2013 the radio station changed the time slot of the Celtic music show and it was no longer convenient to listen to. My husband, knowing how much this music meant to me, started to look for other ways to continue this Sunday morning tradition and several years ago he discovered your podcast, and we've been listening ever since.
I really appreciate the variety of music you play and it has been nice to hear some artists I was familiar with before finding your show; like Heather Dale, Elixir and the Gothard Sisters...and I've so enjoyed learning about so many new artists.
After about a six week break from listening I started to listen again and find myself again grateful for your hard work to make this show happen. My husband died unexpectedly at the end of May and listening to your show again while making Sunday breakfast brings back many fond memories of my Sunday mornings with the most remarkable man I've ever known. Thank you for helping me continue this wonderful tradition, although now tinged with some sadness, it is also full of wonderful memories.
I've been meaning to subscribe to the podcast for some time and finally did so today. I would like to make my support for the show in honor of my wonderful husband and partner, Paul Vigansky.
Thank you so much for all you do. With warmest gratitude, Ginnie L. Vigansky"