Apr 23, 2020
Tap your toes to two hours of instrumental Celtic music. Subscribe and listen to the BestCelticMusic.net online.
Alasdair Fraser & Tony McManus, Haggis Rampant, Sarah Marie Mullen, The Gatehouse Well, Teton Skye, Bridgid's Cross, Moch Pryderi, The Rogues, St. James's Gate, Molly's Revenge With Moira Smiley, Woodson Finley & Stevens, Atlys, Alizbar & Ann'Sannat, Scotland Rising, Bow Triplets, We Banjo 3, Nick Hennessey, The AM String Band, Susana Seivane, John Williams & Dean Magraw, Dark Patrick, String Theory, The Beggarman, Wicked Tinkers, The Kissers, Sharon Shannon, Cara Wildman, Lissa Schneckenburger, Tami Curtis
I hope you enjoyed this week's show. If you did, please share the show with ONE friend.
The Irish & Celtic Music Podcast is here to build our community and help the incredible artists who so generously share their music with you. If you hear music you love, buy the albums, shirts, and songbooks, follow the artists on Spotify, see their shows, and drop them an email to let them know you heard them on the Irish and Celtic Music Podcast.
Remember also to Subscribe to the Celtic Music Magazine. Every week, you will get a few cool bits of Celtic music news. It's a quick and easy way to plug yourself into more great Celtic culture. Plus, you'll get 34 Celtic MP3s for Free, just for signing up today.
VOTE IN THE CELTIC TOP 20
This is our way of finding the best songs and artists each year. Just list the show number, and the name of as many bands in the episode as you like. Your vote helps me create next year's Best Celtic music of 2020 episode. Vote Now!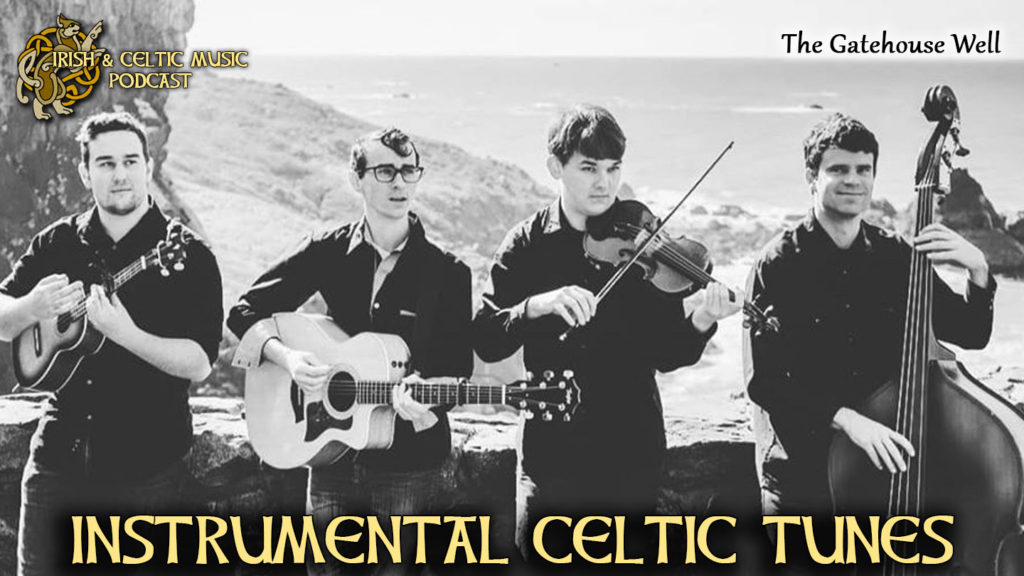 THIS WEEK IN CELTIC MUSIC
0:04 - "Donald Willie and His Dog / Alex MacDonald / Chloe's Passion" by Alasdair Fraser & Tony McManus from Return to Kintail
3:37 - WELCOME
5:28 - "Cullen Anderson (feat. Ken Petrie)" by Haggis Rampant from Burly! Haggis Rampant Plugged In
10:18 - "Amoroso" by Sarah Marie Mullen from The Wild Woods
14:16 - "Michael Goes Flatpickin' / Road to Errogie" by The Gatehouse Well from Bring You Ashore
18:41 - "Snow on the Hills/Xexus and Felicia" by Teton Skye from Teton Skye
22:58 - "Road to Lisdoonvarna" by Bridgid's Cross from Half Two
25:24 - "Torth O Fara/Mochyn Du/Spinning Wheel" by Moch Pryderi from Jig Moch
28:33 - "Winnipeg Forger" by The Rogues from 25...and Live!
32:50 - CELTIC FEEDBACK
34:39 - "The Wise Maid / Down the Broom / The Jolly Tinker" by St. James's Gate from Happy Life
38:57 - "Air Tune" by Molly's Revenge With Moira Smiley from The Western Shore
43:24 - "Up Sligo" by Woodson, Finley, Stevens from The Glory Reel
46:26 - "Stonemilker" by Atlys from Atlys
53:09 - "The Butterfly" by Alizbar & Ann'Sannat from Lullabies & Legends from Broceliande
56:29 - "LaBoum" by Scotland Rising from Out of the Ashes
58:07 - "Dunrobin Castle & The King Of Meenasillagh" by Bow Triplets from Secret Signs
1:00:38 - BREAK
1:01:26 - "Sugar House" by We Banjo 3 from Haven
1:04:41 - "Garden of Daisies/Harvest Home" by Nick Hennessey from Of Fire, Wind and Silver Stream
1:07:49 - "Gravel Walk; Elzic's Farewell" by The AM String Band from Take Root!
1:11:20 - "Fox-Trot" by Susana Seivane from Os Sonos Que Volven
1:16:05 - "Youenn" by John Williams & Dean Magraw from Raven
1:19:52 - "Mna Na H-eireann - King of the Faries - Polka Karelofinochka" by Dark Patrick from Fainne Gael an Lae
Pronunciation: Manaw na Hair-ann
Pronunciation: Fawn-ya Gwayel un lay
1:26:49 - "Banish Misfortune/ Castle Jig/ My Darling Asleep" by String Theory from String Theory
1:30:44 - "Across the Fields" by The Beggarman from Newry Town
1:34:24 - CELTIC PODCAST NEWS
1:36:23 - "The Duncan Johnston" by Wicked Tinkers from Hammered
1:39:51 - "The Wedding (Mingulay Boat Song / Three Sails / Connaghtman's Rambles / Haste to the Wedding)" by The Kissers from Three Sails
1:46:20 - "The Merry Widow" by Sharon Shannon from Sacred Earth
1:49:49 - "March of the Min an Toitean Bull/Tuttle's/Brenda Stubbert's" by Cara Wildman from Cara Wildman
Pronunciation: Meen an Ti-tawn Bull
1:55:39 - "Petronella" by Lissa Schneckenburger from Dance
2:00:11 - CLOSING
2:01:14 - "Ryan's Tunes: The Broken Compass / Workin' at the Winery / Humours of Kilmanin / The Moose in the Meadow" by Tami Curtis from Cairde Cavort
The Irish & Celtic Music Podcast was edited by Mitchell Petersen with Graphics by Miranda Nelson Designs. The show was produced by Marc Gunn, The Celtfather. To subscribe, go to Apple Podcasts or to our website where you can become a Patron of the Podcast for as little as $1 per episode. Promote Celtic culture through music at http://celticmusicpodcast.com/.
#celticpodcast #irishmusic #instrumentalcelticmusic
WELCOME TO CELTIC MUSIC
* Helping you celebrate Celtic culture through music. My name is Marc Gunn. I am a Celtic musician and podcaster. This show is dedicated to the indie Celtic musicians. Please support these artists. Share the show with your friends. Find more episodes at celticmusicpodcast.com. You can also support this podcast on Patreon.
We finally hit a huge milestone on Patreon last month. The show now pulls in about $700 per episode. The money goes pays for a lot of things including my time in producing the show. But the big reason I wanted to hit that goal was because it allows us to reach more Celtic music fans. Yes. I do spend money to advertise the show on Facebook. We get a lot of new listeners because your generosity helps pay for that. That's one of the big reasons I was so happy to hit this milestone.
Because we hit it, I told patrons that I would give them a two-hour instrumental Celtic music special. That's what we are doing today. Of course, it actually wasn't ONE two-hour special. I gave you another one a couple weeks ago. So your generosity funded FOUR bonus hours of Celtic music. So let me start by saying thanks.
And I'll stop there too. Because this episode will be less talk and more music. So let's get started.
BREAK
If you want to find more about the artists you just heard, please make sure you go to the shownotes at CelticMusicPodcast.com. I list the time that each artist and song is played so that you can easily find out who you're listening to. I also share album names URLs of the artists so you can support them and by buying their music.
CELTIC PODCAST NEWS
VOTE IN THE CELTIC TOP 20
This is our way of finding the best songs and artists each year. Just list the show number, and the name of as many bands in the episode as you like. Your vote helps me create next year's Best Celtic music of 2020 episode. Vote Now!
THANK YOU PATRONS OF THE PODCAST!
Because of Your kind and generous support, this show comes out every week. Your generosity funds the creation, promotion and production of the show. It allows us to attract new listeners and to help our community grow.
As a patron, you get to hear episodes before regular listeners. When we hit a milestone, you get an extra-long episode. You can pledge a dollar or more per episode and cap how much you want to spend each month over on Patreon.
A super special thanks to our newest patrons from last month: Sarah F, Toby, JR, Suzanne Marr, Pamela Jo H
You can become a generous Patron of the Podcast. Go to SongHenge.com which will take straight over to Patreon where you can join other amazing Celts.
TRAVEL WITH CELTIC INVASION VACATIONS
Every year, I take a small group of Celtic music fans on the relaxing adventure of a lifetime. We don't see everything. Instead, we stay in one area. We get to know the region through its culture, history, and legends. You can join us with an auditory and visual adventure through podcasts and videos. Learn more about the invasion at http://celticinvasion.com/
I WANT YOUR FEEDBACK
What are you doing today while listening to the podcast? You can send a written comment along with a picture of what you're doing while listening. Email a voicemail message to celticpodcast@gmail.com
Jason Glore emailed a photo: "Happy belated St. Patrick's Day Mark! Love your show!
I celebrated St. Patrick's day by creating and posting the attached image on my astro-photography flikr page (and my Instagram).
Most of the image is made from a color-edited photo I took of the moon, centered on the "dog wearing sunglasses" face.
Keep up the good work, helping people connect with Celtic culture!"
Rachel Quill emailed a couple photos: "Dear Marc,
Greetings from Georgia! just wanted to thank you for all you do! Your podcasts help encourage me to go on walks and stay in shape. I took the first pic while I was listening. The second picture is of a friend and I celebrating St.Patrick's a few days early."