Dec 30, 2021
Amazing Celtic music! Listen to the Top 20 Celtic songs and tunes of 2021 as voted on by you, the listeners of the Irish & Celtic Music Podcast. Subscribe to enjoy over 500 hours of great Celtic Music by some of the best indie Celtic bands and musicians in the world.
Clann An Drumma, The Bow Tides, Heather Dale, Brad Reid, Beth Patterson, Will Macmorran, Eira, Marc Gunn, Brass Lassie, Matt & Shannon Heaton, Moch Pryderi, Across the Pond, Deirdre Graham, Wakefire, The Darkeyed Musician, Grimwater, Tartanic, Scythian, Ockham's Razor, Follow The Crows, Old Blind Dogs, Tuatha de Danann, Loveridge, The Longest Johns
I hope you enjoyed this week's show. If you Heard a song, tune or artist that you loved, I'd like you to share this episode and tag the artist on social either on your page or in a Celtic group you're a part of. Include the show time so they can quickly listen and enjoy.
The Irish & Celtic Music Podcast is here to build our diverse Celtic community and help the incredible artists who so generously share their music with you.
Musicians rely on your support so they can keep creating new music. If music in this show inspired you, you can buy their CDs, digital downloads, shirts, pins, and other merch. You can follow them on streaming and see their shows. More and more Celtic musicians are on Patreon, just like this podcast. And of course, I always appreciate it when you drop artists an email to let them know you heard them on the Irish and Celtic Music Podcast.
How would you like Celtic music news in your inbox? The Celtic Music Magazine is a quick and easy way to plug yourself into more great Celtic culture. Subscribe and get 34 Celtic MP3s for Free.
THIS WEEK IN CELTIC MUSIC
0:07 - Clann An Drumma "Devil's Pulpit" from Order of the Stag
4:07 - WELCOME
5:28 - The Bow Tides "Bea's Waltz" from Single
8:08 - Heather Dale "Joan" from The Gabriel Hounds
12:00 - Brad Reid "Trip to Peggy's Cove" from New Scotland
15:20 - Beth Patterson "Take Some Fire" from Firebrand
20:01 - Will Macmorran "Fochabers" from Glen Echo
23:19 - FEEDBACK
27:53 - Eira "Rhythm of the Goat / Breakwater Boys Breakdown" from Eira
32:49 - Marc Gunn "Purple Flower" from St. Patrick's Day
36:17 - Brass Lassie "Ann Lacey's/Taybank Shenanigans" from Brass Lassie
39:46 - Matt & Shannon Heaton "Jig (name unknown) & Sailing Down Fulton Street" from Blue Skies Above
43:25 - Moch Pryderi "Trafaeliais Y Byd (I Traveled the World)" from Moch IV
46:06 - NEW IN 2022
49:02 - Across the Pond "The Blarney Set" from Kid On the Mountain
53:57 - Deirdre Graham "Mairead nan Cuiread" from URRANTA
58:02 - Wakefire "Tam Lin / Johnny Goes to France" from To a Distant Shore
1:00:23 - The Darkeyed Musician & Grimwater "The Faerie Ring" from Illumina
1:04:03 - Tartanic "The Clumsy A - Hole!" from Uncivilized
1:08:07 - THANKS
1:09:23 - Scythian "Galway City feat. Shane Hayes" from Roots & Stones
1:12:50 - Ockham's Razor "Tonight I Fear Not the Viking" from Secrets and Silence
1:17:44 - Follow The Crows "Tide Turns" from Tide Turns
1:22:16 - Old Blind Dogs "Newe" from Room With A View
1:29:04 - Tuatha de Danann "The Devil Drink Cider" from In Nomine Éireann
1:33:43 - CLOSING
1:36:28 - Loveridge feat. The Longest Johns "The Doom Bar" from As the Crow Flies
The Irish & Celtic Music Podcast was edited by Mitchell Petersen with Graphics by Miranda Nelson Designs. The show was produced by Marc Gunn, The Celtfather. Subscribe through your favorite podcatcher or on our website where you can become a Patron of the Podcast for as little as $1 per episode. Promote Celtic culture through music at http://celticmusicpodcast.com/.
WELCOME TO CELTIC MUSIC
* Helping you celebrate Celtic culture through music. I am Marc Gunn. I'm a musician and podcaster. I share my love of Irish and Celtic music from around the globe with you. I want to introduce you to some amazing Celtic bands and musicians.
The artists in this show need your support. You can do that by buying their music or telling a friend about the band you found. You can find a link to all of the artists, along with show times and chapters for each song when you visit our website at celticmusicpodcast.com. You can also support this podcast on Patreon.
Today is the Celtic Top 20 songs and tunes of 2021. The music picked for this show was by Your Votes. You will note that there are actually 22 tracks this time.
Yup. You get bonus music this time because one of my tracks made the top 20. While I include it in the show, I don't consider it as one of the Top 20 songs. That said, there were a couple ties at the end of the show. And thus, you get even more music this time.
NEW IN 2022
CHANGES TO THE CELTIC TOP 20 FOR 2022
I made some changes to the Celtic Top 20 for 2022. Yes. I still want and need your votes so we can create another amazing "best of" episode. It is now easier than ever to vote. Just select the tracks that you love the best. However, you will need to be a Patron of the Podcast to cast a vote.
Another change for the new year is I am creating a Best of 2022 playlist on Spotify. I will update it every week starting two weeks after the first show launches in the new year.
My hope is to help promote these amazing Celtic bands and musicians on the largest streaming music platform out there.
ARE YOU A MUSICIAN WITH A STORY TO SHARE?
I am planning out the spring season of Pub Songs & Stories. Pub Songs & Stories is a Virtual Public House for musicians to share the stories and inspiration behind their music. Do you have or know a good story to share on our companion podcast?
Stories can be about songs or tunes, from a gig, a piece of Celtic history, or anything that might be paired with a song or tune. Drop me an email. Put "Pub Story" in the show subject. Tell me your story. Maybe I'll ask you to record your story for the show. I'm planning only 10 episodes. So email me soon. And make sure you subscribe at PubSong.com.
THANK YOU PATRONS OF THE PODCAST!
Because of Your kind and generous support, this show comes out nearly every week. Your generosity funds the creation, promotion, and production of the show. It allows us to attract new listeners and to help our community grow.
As a patron, you hear episodes before regular listeners. You can pledge a dollar or more per episode and cap how much you want to spend each month over on Patreon. You can also get music - only episodes and free MP3s when you become a Song Henger.
A super special thanks to our Celtic Legends: Dan mcDade, Carol Baril, Miranda Nelson, Nancie Barnett, Kevin Long, Lynda MacNeil, Annie Lorkowski, Travis Senzaki, Shawn Cali
You can become a generous Patron of the Podcast on Patreon at SongHenge.com.
TRAVEL WITH CELTIC INVASION VACATIONS
Every year, I take a small group of Celtic music fans on the relaxing adventure of a lifetime. We don't see everything. Instead, we stay in one area. We get to know the region through its culture, history, and legends. You can join us with an auditory and visual adventure through podcasts and videos. Learn more about the invasion at http://celticinvasion.com/
#celticmusic #irishmusic #celticmusicpodcast
I WANT YOUR FEEDBACK
What are you doing today while listening to the podcast? You can send a written comment along with a picture of what you're doing while listening. Email a voicemail message to celticpodcast@gmail.com
Eilene Marie Toppin Ording emailed a photo: "Here's what I do while listening to your podcast. I walk early in the morning and this day, the moon was still up and walked with me. My Scottish roots are very deep and we came to North America via Ireland. My mother's maiden name is McCamus which would equate to McKeamish or McHamish probably in Scottish. Be that as it may, we are part of Clan Gunn. One of my bucket list items is to visit the Clan Gunn Museum & Heritage Centre in Latheron, Scotland. Unfortunately, they are not open and I can't travel at the moment anyway. I'm enjoying your podcast. I've been sending the podcast link and some band links to my son in the Navy in Guam. We share an interest in all things Celtic or Gaelic. My favorite band is Gaelic Storm (they play the KC Irish Fest every Labor Day Weekend), but I recently fell in love with Niamh Parsons' voice. I first heard her and her partner on your podcast.?? Have a great day."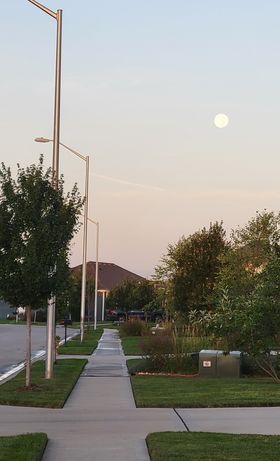 So many people post on Facebook to say thanks and comment on our Facebook page. I thought I'd share some of those comments. Many from musicians.
Bill Mullen posted: "Just listened to the podcast - nice selection and enjoyed the show - thanks Marc!"
ReillyRocks Irish: "Totally awesome! We are recording new material set to be released in March. Can't wait to share it with you guys!"
Vic Morris: "These wonderful women of The Bow Tides are former (and one current) members of the band Gaelic Storm. I have seen them all at GS concerts and they truly are talented!! My wife and I saw GS on Wednesday of this week in Dallas, TX and got to hear Katie live for the first time with GS. She and the band put on a frolicking good show! I am listening to this episode of the podcast right now."
Scott Sterling: "Many thanks for putting it out there !"
Jesse Ferguson (The Bard of Cornwall): "Awesome! Proud to be in such good company"
Brigid's Crossing: "I really like Coast and Loveridge. Never heard of them before but just bought some tracks. Thanks for the find!"
The Wild Irish Roses: "Thank You!!!"
Golden Bough Music: "RIP Paddy. Such a wonderful musician and wonderful person! You will be very truly missed!"
Cíana: "Thanks Marc! You're the best!"
Brenda Richardson: "Are you planning any trips for the future? I cannot find any mention of it on your website or Facebook page."
The Guinness Brothers: "Cheers guys"
The Gatehouse Well: "Thanks so much! Can't wait to listen through this week's episode!"
TURF FIRE LIARS: "Love your show!!!"
Bob Spellman: "I always look forward to the new episodes"
Kris Colt & the Black Rose Band: "Thank you so much for playing our new song Charmed. Very much appreciated"
Susana Seivane posted: Hearts
Eric Guarin posted a link: "Mark, you're always asking "what are you doing today while listening to the podcast"? Well today in fact I was running the Leghowney (leg - uh - nee said a local) Loop Scenic Walk near Donegal Ireland! A forest, a wind farm, a bunch of sheep, all lovely. The podcast made a great accompaniment, thanks!"