Oct 15, 2020
Experience Celtic Fusion on this week's Irish & Celtic Music Podcast.
Brian O h'Uiginn, Jiggy, Mairi Morrison & Alasdair Roberts, Catya Mare, Bad Haggis, Bushplant, MacTalla Mor, Celtic Reggae Revolution, The Demon Barbers, Sonic Impulse, Poor Man's Fortune, Enam, Event Horizon
I hope you enjoyed this week's show. If you did, please share the show with ONE friend.
The Irish & Celtic Music Podcast is here to build our community and help the incredible artists who so generously share their music with you. If you hear music you love, buy the albums, shirts, and songbooks, follow the artists on social and streaming, see their shows, and drop them an email to let them know you heard them on the Irish and Celtic Music Podcast.
Remember also to Subscribe to the Celtic Music Magazine. Every week, you will get a few cool bits of Celtic music news. It's a quick and easy way to plug yourself into more great Celtic culture. Plus, you'll get 34 Celtic MP3s for Free, just for signing up today.
VOTE IN THE CELTIC TOP 20
This is our way of finding the best songs and artists each year. Just list the show number, and the name of as many bands in the episode as you like. Your vote helps me create next year's Best Celtic music of 2020 episode. Vote Now!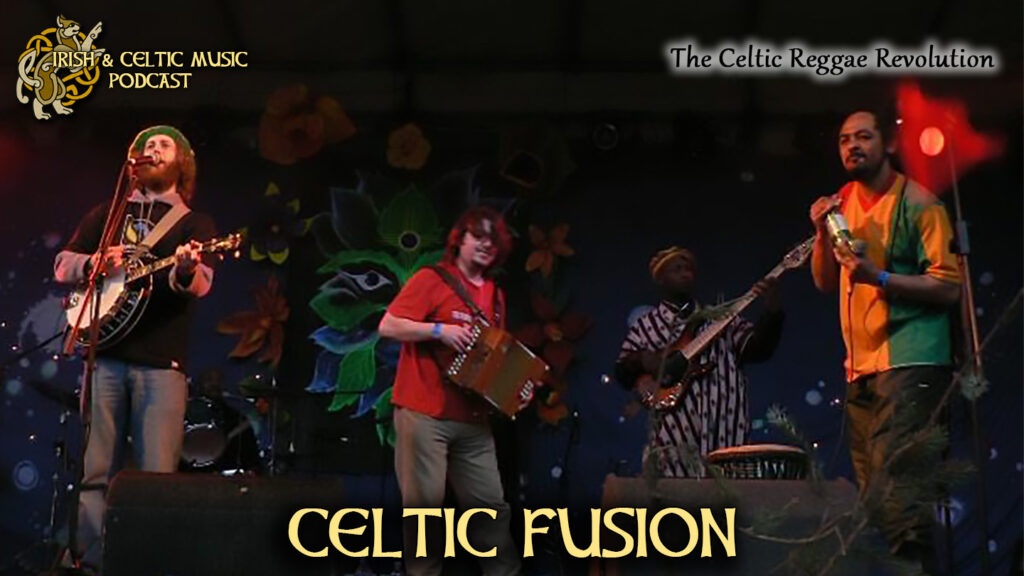 THIS WEEK IN CELTIC MUSIC
0:05 - "Balintore Fancy" by Brian O h'Uiginn from Tionchar
4:56 - WELCOME
6:46 - "Crossing the Rhine" by Jiggy from Hypernova
12:00 - "Mìle Marbhphaisg air a' Ghaol" by Mairi Morrison & Alasdair Roberts from Urstan
Pronunciation: Me-la Mar-vas-ig Air A gull
15:32 - "Sunny Time" by Catya Mare from Destination Love
17:53 - "Tha Hag At The Churn" by Bad Haggis from Trip
22:20 - CELTIC FEEDBACK
24:31 - "Go Make Somebody Happy Here" by Bushplant from Janus
28:10 - "New Wave" by MacTalla Mor from The New Colossus
30:46 - "Gypsy Tax Fiddle Dub" by Celtic Reggae Revolution from Celtic Dub, Volume 1
35:43 - "Ranzo" by The Demon Barbers from Disco at the Tavern
39:38 - CELTIC PODCAST NEWS
40:43 - "Ndimuchida" by Sonic Impulse from Single
Pronunciation: De-Muc-e-Da (?)
44:20 - "Puirt A' Bheil" by Poor Man's Fortune from In Good Times
Pronunication: Port A' Veil
46:55 - "Moving Air" by Enam from Single
50:58 - "Kepler 22B" by Event Horizon from Event Horizon
54:59 - CLOSING
56:01 - "Taobh Abhainn feat. Alasdair Whyte" by Niteworks from NW
Pronunication: Tae-uv Ow-inn
The Irish & Celtic Music Podcast was edited by Mitchell Petersen with Graphics by Miranda Nelson Designs. The show was produced by Marc Gunn, The Celtfather. To subscribe, go to Apple Podcasts or to our website where you can become a Patron of the Podcast for as little as $1 per episode. Promote Celtic culture through music at http://celticmusicpodcast.com/.
WELCOME TO CELTIC MUSIC
* Helping you celebrate Celtic culture through music. My name is Marc Gunn. I am a Celtic musician and podcaster. This show is dedicated to the indie Celtic musicians. Please support these artists. Share the show with your friends. And find more episodes at celticmusicpodcast.com. You can also support this podcast on Patreon.
CELTIC PODCAST NEWS
THANK YOU PATRONS OF THE PODCAST!
Because of Your kind and generous support, this show comes out every week. Your generosity funds the creation, promotion and production of the show. It allows us to attract new listeners and to help our community grow.
As a patron, you get to hear episodes before regular listeners. When we hit a milestone, you get an extra-long episode. You can pledge a dollar or more per episode and cap how much you want to spend each month over on Patreon.
Your contribution also allows us to support the Middle Tennessee Highland Games & Celtic Festival on September 12-13 and the Texas Scottish Festival on October 16-18.
A super special thanks to our newest patrons: Carol, Kim L, Bruce C, Keaton, and Robyn who raised her pledge.
You can become a generous Patron of the Podcast on Patreon at SongHenge.com.
TRAVEL WITH CELTIC INVASION VACATIONS
Every year, I take a small group of Celtic music fans on the relaxing adventure of a lifetime. We don't see everything. Instead, we stay in one area. We get to know the region through its culture, history, and legends. You can join us with an auditory and visual adventure through podcasts and videos. Learn more about the invasion at http://celticinvasion.com/
#celticmusic #irishmusic #celticpodcast
I WANT YOUR FEEDBACK
What are you doing today while listening to the podcast? You can send a written comment along with a picture of what you're doing while listening. Email a voicemail message to celticpodcast@gmail.com
Brenda Richardson emailed a photo: "I listened to your podcast yesterday while scraping mint green paint off the bottom of the 1957 mahogany Dunphy boat from my childhood."
"Thanks for all the great music" writes Bella Seita: "Dear Marc,
Thank you so much for all that you do for Celtic music and culture. My name is Bella Seita and I live in the Redlands in Queensland Australia. I am a math teacher. Celtic music is my go to for marking and reporting. Your podcast over the last few years has been my constant friend and companion in the countless hours on marking and reporting I have to do. To any Indi Australian Celtic Musician listening to your podcast I would love you to share your music with Marc so that the rest of the world can hear the wonderful creative people we have in this country. I enjoy so much listening to musicians from America, Canada, Ireland, Scotland, Galicia and Brittany.
You and your music bring me so much pleasure. Keep on keeping on"
Nicholas Iacono emailed a photo: "The weather and free time finally overlapped, so I could go kayaking."