Dec 13, 2018
This is your last week to vote in the Celtic Top 20. Here's some of the best Celtic songs from past episodes with great Celtic music from Flook, Jimi McRae, Marc Gunn, Derek Warfield and The Young Wolfe Tones, The Elders, Burning Bridget Cleary, The Kreellers , Navan, Bow Triplets, Celtic Squall, Maggie Drennan, Peter Daldry, Shishonnah, The Willis Clan, Patsy O'Brien. http://celticmusicpodcast.com/
I hope you enjoyed this week's show. If you did, please share the show with ONE friend.
The Irish & Celtic Music Podcast is dedicated to growing our community and helping the incredible artists who so generously share their music. If you find music you love, buy their albums, shirts, and songbooks, follow them on Spotify, see their shows, and drop them an email to let them know you heard them on the Irish and Celtic Music Podcast.
Remember also to Subscribe to the Celtic Music Magazine. Every week, I'll send you 4 or 5 cool bits of Celtic music news. It's a quick and easy way to plug yourself into more great Celtic culture. Plus, you'll get 34 Celtic MP3s for Free, just for signing up today. Thank you again for being a Celt of Kindness.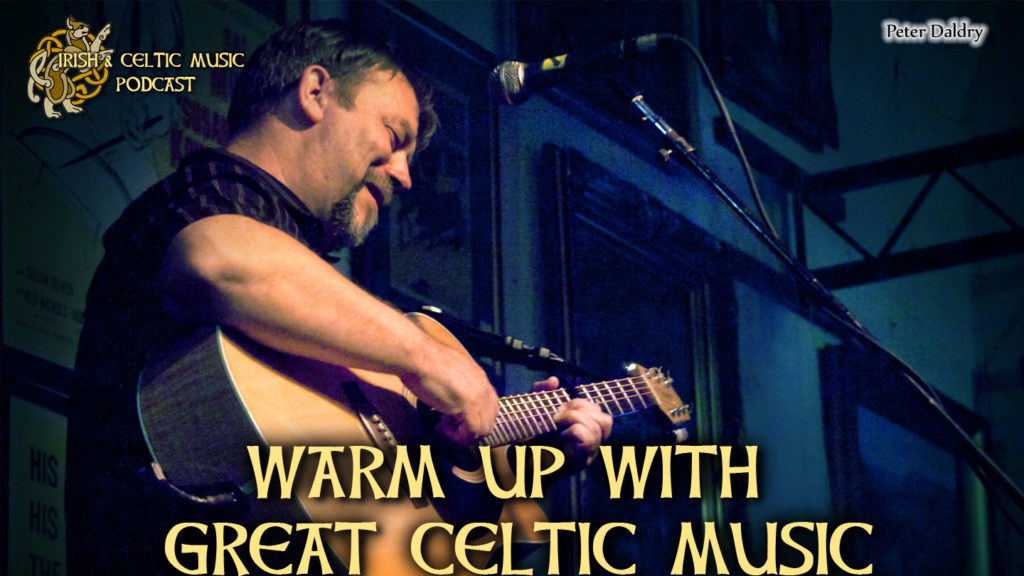 VOTE IN THE CELTIC TOP 20
It's easier than ever to do. Just list the show number, and the name of one or two bands. That's it. You can vote once for each episode help me create next year's Best Celtic music of 2018 episode. http://bestcelticmusic.net/vote/
THIS WEEK IN CELTIC MUSIC
0:03 "Pod:Baldy hollow/The Empty Pod" by Flook from Rubai
6:13 "Amazing Grace/Reels and Strathspeys" by Jimi McRae and Sam Okoo from Scottish Pipes and African Drums
11:19 "Peggy Gordon" by Marc Gunn from The Bridge
15:35 "Farewell to Ireland" by Derek Warfield and The Wolfe Tones from
Far Away in Australia
19:05 "Men of Erin" by The Elders from American Wake
23:59 CELTIC FEEDBACK
25:59 "Chloe's Passion" by Burning Bridget Cleary from These Are the Days
30:05 "Sixth and Porter" by The Kreellers from Sixth and Porter
32:51 "Ellas Mari" by Navan from Lowena
36:12 "Raindrops in Whiskey" by Bow Triplets from Fair Play to You
41:13 "Ca the Yowes to the Knowes" by Celtic Squall from Celtic Squall
43:55 CELTIC PODCAST NEWS
44:59 "Is Fad' O 'Bhaile Daithneoinn (Far from Home)" by Maggie Drennon from Just Now
50:07 "Bruach Chluidh" by Peter Daldry from Familiar Roads
52:55 "Elysian Dreams" by Shishonnah from Elysian Dreams
56:40 "Blast O'Reels" by The Willis Clan from Roots
1:03:37 "Good Times Coming" by Patsy O'Brien from Irish Guitar
The Irish & Celtic Music Podcast was produced by Marc Gunn, The Celtfather. To subscribe, go to Apple Podcasts or to our website where you can become a Patron of the Podcast for as little as $1 per episode. Promote Celtic culture through music at http://celticmusicpodcast.com/.
CELTIC PODCAST NEWS
* Helping you celebrate Celtic culture through music. My name is Marc Gunn. I am a Celtic musician and podcaster. This show is dedicated to the indie Celtic musicians. I want to ask you to support these artists. Share the show with your friends. And find more episodes at celticmusicpodcast.com. You can also support this podcast on Patreon.
This is your last week to vote in the Celtic Top 20. In every episode, I ask you to vote for your favorite artists in each show. At the end of the year, I create a Best of the Year episode featuring the Top 20 songs and tunes vote on by you.
We have 49 episodes for you to vote in. All you need to do is listen to each episode, pick your two favorite artists. Then head over to BestCelticMusic.net/vote/. You'll find a link at the top of each shownotes. Put the show number, artist name, and your name and hit enter.
It's super easy. So please go vote today!
Did you listen to the final episode of the Celtic Christmas Podcast for 2018? I posted it on Monday. You can subscribe and listen to all 51 episodes of that podcast at CelticChristmasPodcast.com
I just published a quick and easy Guide to the best Irish & Celtic Christmas music of 2018 on my Celtfather podcast. You can listen at Celtfather.com.
TRAVEL WITH CELTIC INVASION VACATIONS
Every year, I take a small group of Celtic music fans on the relaxing adventure of a lifetime. We don't see everything. Instead, we stay in one area. We get to know the region through it's culture, history, and legends. You can join us with an auditory and visual adventure through podcasts and videos.
2019 is the Celtic Invasion of Star Wars. 2020 is the Origins of Celtic Invasions. You can find out more about these two exciting trips. Join the invasion at http://celticinvasion.com/
THANK YOU PATRONS OF THE PODCAST!
I don't know about you. But I am not a fan of corporate influence. Certainly not in politics, but also not in the music I create and share. That's one of the reasons that the Irish & Celtic Music Podcast supports independent Celtic musicians. I want to help the artists who don't have a record label or a giant production company behind them. They are doing everything themselves. Your support of this podcast helps with that mission.
This show is listener supported. Instead of trying to find advertisers, I've decided to let your generosity fund the creation, production, and promotion of the show. You'll get episodes before regular listeners, discounts on merch, and when we hit a milestone, you get extra special episodes, including a bonus episode of the Celtic Christmas Podcast that will come out next month.
I want to thank our newest patrons of the podcast: Kevin H. and Michelle S.
You can become a generous Patron of the Podcast at http://patreon.com/celticpodcast
I WANT YOUR FEEDBACK
What are you doing today while listening to the podcast? You can send a written comment along with a picture of what you're doing while listening. Email a voicemail message to celticpodcast@gmail.com
Ian Shaw emailed from Shanghai: "Hi Marc, Start by saying you make a fantastic Podcast giving the lesser known bands good air time.
I am a Ships Captain and come from Scourie (pronounced SCOWRIE) just up the coast from the Isle of Skye. I presently supervise the shipbuilding of the world's largest stainless steel chemical tankers in Shanghai China. Just small enough to squeeze through the "old" Panama canal. ( 600 foot long and 106 foot wide)
I could not help but smile when I listened to your discussions regarding the Skye midges which you encountered last summer. They are at their worst when peat cutting in the highlands.
I discovered your podcast last March when I decided to try and change my lifestyle after my best friend died from a heart attack. Thanks to your great selection of music which I listen to every morning/night as I speed walk the 40 minutes from my Chinese home to the shipyard. I have now lost 20Kg ( 20% of my original body weight) and got my general health in order. I am now completing marathons instead of lying on the sofa drinking beer. Hope your daughter is recovering after her operation
Thank you Marc....keep up the great work, I have found many new bands to listen to by purchasing their music.
Cum suas an obair mhor CUM SUAS AN ABER MORE
Slainte