Aug 22, 2019
Let's make a change in the world with Celtic music.
Bonnie Rideout, Colin Farrell, Gone Molly, Alasdair Fraser & Tony McManus, Tullamore, Bernadette Morris, Molly's Revenge, Teton Skye, Brad Reid, Finbar Furey, Dom Duff, The Canny Brothers Band, Sliotar, The Led Farmers, Rathkeltair, The Gothard Sisters
I hope you enjoyed this week's show. If you did, please share the show with ONE friend.
The Irish & Celtic Music Podcast is dedicated to growing our community and helping the incredible artists who so generously share their music. If you find music you love, buy their albums, shirts, and songbooks, follow them on Spotify, see their shows, and drop them an email to let them know you heard them on the Irish and Celtic Music Podcast.
Remember also to Subscribe to the Celtic Music Magazine. Every week, I'll send you a few cool bits of Celtic music news. It's a quick and easy way to plug yourself into more great Celtic culture. Plus, you'll get 34 Celtic MP3s for Free, just for signing up today. Thank you again for being a Celt of Kindness.
VOTE IN THE CELTIC TOP 20
With the new year comes a new votes in the Celtic Top 20. This is our way of finding the best songs and artists each year. Just list the show number, and the name of as many bands in the episode as you like. Your vote helps me create next year's Best Celtic music of 2019 episode. Vote Now!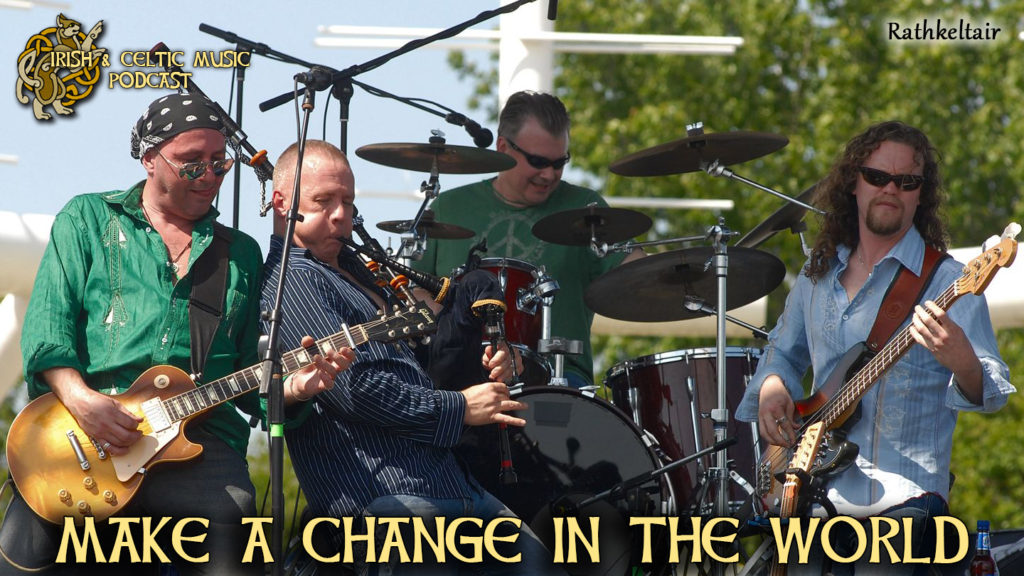 THIS WEEK IN CELTIC MUSIC
0:04 - "The Jaunting Car Hornpipe Set" by Bonnie Rideout from Scottish Inheritance
5:08 - "Tabla Jigs: One For Danielle, Dancing Morris, Moll's Gap" by Colin Farrell from On the Move
8:53 - "Black Hearted, Booze-Bolting Gypsies" by Gone Molly from Culloden
11:57 - "Lieutenant Maguire's Jig / The Curlew / Sleepy Maggie / Tail Toddle" by Alasdair Fraser & Tony McManus from Return to Kintail
16:58 - "Paddy In America -- Whisky Before Breakfast / Rakish Paddy / Turkey In the Straw / Arkansas Traveler / Bonaparte's Retreat" by Tullamore from Two to Get Ready
23:25 - CELTIC FEEDBACK
26:03 - "By the Water's Edge" by Bernadette Morris from Where the Heart Is
29:28 - "The Western Shore" by Molly's Revenge With Moira Smiley from The Western Shore
35:05 - "Come and Be Welcome" by Teton Skye from Teton Skye
37:32 - "Andy Broon's" by Brad Reid from The Conundrum
39:47 - "Once When I Was" by Finbar Furey from Colours
44:10 - CELTIC PODCAST NEWS
46:07 - "Laouen" by Dom Duff from Roc'h
49:48 - "William O'Connor" by The Canny Brothers Band from The Guinness Situation
53:42 - "The Sweet Little Girl from Barnagh" by Sliotar from Voyage
55:37 - "Thomas Jefferson" by The Led Farmers from Katie
58:52 - "Geese" by Rathkeltair from Big White Van
1:02:49 - "It's the Little Things" by The Gothard Sisters from It's the Little Things
The Irish & Celtic Music Podcast was produced by Marc Gunn, The Celtfather. To subscribe, go to Apple Podcasts or to our website where you can become a Patron of the Podcast for as little as $1 per episode. Promote Celtic culture through music at http://celticmusicpodcast.com/.
CELTIC PODCAST NEWS
* Helping you celebrate Celtic culture through music. My name is Marc Gunn. I am a Celtic musician and podcaster. This show is dedicated to the indie Celtic musicians. I want to ask you to support these artists. Share the show with your friends. And find more episodes at celticmusicpodcast.com. You can also support this podcast on Patreon.
TRAVEL WITH CELTIC INVASION VACATIONS
Every year, I take a small group of Celtic music fans on the relaxing adventure of a lifetime. We don't see everything. Instead, we stay in one area. We get to know the region through it's culture, history, and legends. You can join us with an auditory and visual adventure through podcasts and videos. Join the invasion at http://celticinvasion.com/
THANK YOU PATRONS OF THE PODCAST!
We hit our 14th year anniversary at the end of July. Your kind and generous support of this show each and every week are the reason it still exists after 14 years.
There are many ways to support the Irish & Celtic Music Podcast, throughs donation, buying bumper sticker, pint glasses or t-shirts. But the best way of all is to become a Patron of the Podcast.
You can make a pledge of a dollar or more per episode and cap how much you want to spend each month. Your generosity funds the creation, promotion and production of the show. It allows us to attract new listeners and to help our community grow. And you also get episodes before regular listeners.
And when we hit a milestone, you get an extra-long episode. We are super close to getting a two-hour instrumental special.
You can become a generous Patron of the Podcast at http://patreon.com/celticpodcast.
I want to thank our Patrons of the Podcast: Chris C., Dwayne B., Cathy H., Kevin L, Trevor, Murray F
I WANT YOUR FEEDBACK
What are you doing today while listening to the podcast? You can send a written comment along with a picture of what you're doing while listening. Email a voicemail message to celticpodcast@gmail.com
Andrew Vanhorn emailed in response in to the Diversity of Celtic Music episode: "THANK YOU for the support! appreciate you spinning our tune.
three cheers for the intelligent and compassionate. very well said and super congrats on your crowd-funding and the release of your music - that is awesome! make sure when you tour Canada you stop in Kingston"
Hans Schuts emailed from The Netherlands: "Hi Marc. I can only strongly agree with your point of view!! Tnx for all the nice music you provide with your podcast (and cd's of course) and please keep up the good work!"
Ryan Ferris emailed some solidarity: "Marc, When I heard about the belittling of the Women of Celtic Music, I felt horrible that such a thing could happen. Whoever disturbed the growth of the community we've developed here should be disgusted with themselves. Thanks to Susan of Thunder on the Plains and the support you've given her, I will be buying the latest album from each artist on that 'Women of Celtic Music' episode. I hate to hear of such a thing happening to her and her peers and hope that, because of our actions, the world becomes better and more accepting."
James Slaven emailed a photo: "Excellent episode (Celtic Invasions)! As always, of course.
I just returned from Cape Breton, Nova Scotia where they have wonderful Celtic culture. Right now, as I listen, I'm enjoying my first wee dram of Canadian whisky (spelled without an 'e,' but not called Scotch) from Glenora Distillery, aged in ice wine barrels. It's excellent. (Picture attached.)
Also, if Natalie the ethno-musicologist wouldn't mind sharing links to her work, I'd love to read it, being an amateur folklorist and published musicologist.
Also, cheers on The Year of the Celtic Woman! Some of us appreciate it and love artists of all genders. Slainte!"