Jan 11, 2018
We're gonna visit the Corpus Christi Irish Sessions along with more great Celtic music from Avery LeVine, Chambless, Taylor and Muse, Wolf & Clover, Cara Wildman, Matt & Shannon Heaton, Corpus Christi Irish Session, Brynmor, The Jackdaws, Jiggy, Templars of Doom, Bill Grogan's Goat, The Founding. http://celticmusicpodcast.com/
Listen and share this podcast. Download 34 Celtic MP3s for Free. Subscribe to the Celtic Music Magazine. This is our free newsletter and your guide to the latest Celtic music and podcast news. Remember to support the artists who support this podcast: buy their CDs, download their MP3s, see their shows, and drop them an email to let them know you heard them on the Irish and Celtic Music Podcast.
TODAY'S SHOW IS BROUGHT TO YOU
BY CELTIC INVASION VACATIONS
Don't just see the world. Go on a relaxing adventure with a small group of Celtic music fans, just like you. We won't see everything. Instead, we will stay in one area. We will get to know the region through it's culture, history, and legends. You can help me decide where we should go into 2019. Subscribe to the mailing list to join the invasion at http://celticinvasion.com/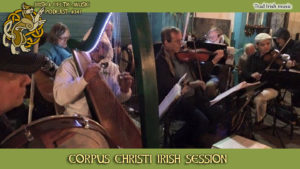 THIS WEEK IN CELTIC MUSIC
0:03 "Patsy Hanley's/The Boys of Ballisodare/The Crosses of Annagh" by Avery LeVine from Lonesome City
3:48 "The Boreraig Osprey" by Chambless, Taylor and Muse from Live at NTIF
7:48 "The Wild Goose" by Wolf & Clover from Wolf & Clover
11:50 "O'Carolan's Welcome/Ms. Cara Wildman of Dorchester/Spootiskerry" by Cara Wildman from Cara Wildman
15:31 "Lily of the West" by Matt & Shannon Heaton from Lover's Well
19:42 CELTIC PODCAST NEWS
21:36 "Brosna Slide" by Corpus Christi Irish Session
24:22 "Cockles and Mussels" by Corpus Christi Irish Session
27:23 "Coach Road to Sligo" by Corpus Christi Irish Session
30:00 "Old Maid in the Garrett" by Corpus Christi Irish Session
34:03 CELTIC FEEDBACK
34:46 "Musical Priest" by Brynmor from The Great Hill
36:55 "Another Murphy Goes to War" by The Jackdaws from On the Lash
39:53 "An Capall Dubh" by Jiggy from Translate
45:19 "Templars Erupt" by Templars of Doom from Bring Me the Head of John the Baptist
50:00 "The Newrey Highwayman" by Bill Grogan's Goat from Third Eye
55:05 "Hawthorn Tree" by The Founding from Form
The Irish & Celtic Music Podcast was produced by Marc Gunn, The Celtfather. To subscribe, go to iTunes or to our website where you can become a Patron of the Podcast for as little as $1 per episode. Promote Celtic culture through music at http://celticmusicpodcast.com/.
THANK YOU PATRONS OF THE PODCAST!
Imagine a world with no Celtic music. Sounds pretty horrible, right? All you have is boring music being shoved down your throats by big record labels. You wouldn't get to experience the incredible music shared each and every week in the Irish & Celtic Music Podcast. Our incredibly generous people bring you hours of great Celtic music. You can help celebrate Celtic music and culture and keep this show running every week. Become a Patron of the Podcast at http://patreon.com/celticpodcast
Thanks to our newest patrons: Aaron Dent, George Mears. Thank you SO much for supporting the show!
CELTIC PODCAST NEWS
* Helping you celebrate Celtic culture through music. My name is Marc Gunn. I am a Celtic and Geek musician and podcaster. This podcast is dedicated to the indie Celtic musicians. I want to ask you to support these artists. Share the show with your friends. And find more episodes at celticmusicpodcast.com. You can also support this podcast on Patreon.
Robin Allen of the Corpus Christi Irish Sessions was the only person to respond to my call for music from Irish sessions last summer. That's okay. I decided to feature them this month. They meet once a month in Corpus Christi, Texas at Cassidy's Irish Pub. Look for them this Sunday, January 14, 2018 if you'd like to join them. Go to http://corpuschristiirishsessions.com/ for details.
The 2018 Irish & Celtic Music Podcast t-shirts are now on sale. I have a brand new shirt that you can get and help support the podcast. Or go all out and get the Sainted Song Henger Collection, which includes, the t-shirt, coffee mug, and my Celtic Music 6-Pack. Be one of the first, and you'll also get bonus gifts from my Celtic Invasion of Brittany last year.
There are many ways you can support this podcast like I just mentioned. Find a full list at songhenge.com
But one the best way to support indie Celtic music is to become a Patron of the Podcast. The generosity of our patrons allows us to share independent Celtic music to thousands of people around the globe. It's an incredible service for our community. I thank each and every person who makes a pledge. Thank you!
VOTE IN THE CELTIC TOP 20
It's easier than ever to do. Just list the show number, and the name of one or two bands. That's it. You can vote once for each episode help me create next year's Best Celtic music of 2017 episode. http://bestcelticmusic.net/vote/
I WANT YOUR FEEDBACK
What are you doing today while listening to the podcast? You can send a written comment along with a picture of what you're doing while listening. Email a voicemail message to celticpodcast@gmail.com
Cary Glenn emailed a picture: "I enjoyed the latest show today. I was working at my forge and on came a tune with hammering on an anvil as I was doing the same thing. Coincidence? I think not! One on the things I was making today was treble clef bottle openers. Thanks for making the show."