Aug 29, 2019
Rock out to the Top 20 Irish Drinking Songs from the Irish & Celtic Music Podcast.
The Celtic Kitchen Party, Stout Pounders, The Barley Boys, Homeland, Bridgid's Cross, Hair of the Dog, Musical Blades, Ceann, Boston Blackthorne, The Brazen Heads, St. Jame's Gate, Bangers and Mash, Rebels and Sinners, The Fighting Jamesons, Barleyjuice, Bourbon & Shamrocks, Battlelegs, Sgian Dubh, Screaming Orphans
I hope you enjoyed this week's show. If you did, please share the show with ONE friend.
The Irish & Celtic Music Podcast is dedicated to growing our community and helping the incredible artists who so generously share their music. If you find music you love, buy their albums, shirts, and songbooks, follow them on Spotify, see their shows, and drop them an email to let them know you heard them on the Irish and Celtic Music Podcast.
Remember also to Subscribe to the Celtic Music Magazine. Every week, I'll send you a few cool bits of Celtic music news. It's a quick and easy way to plug yourself into more great Celtic culture. Plus, you'll get 34 Celtic MP3s for Free, just for signing up today. Thank you again for being a Celt of Kindness.
VOTE IN THE CELTIC TOP 20
With the new year comes a new votes in the Celtic Top 20. This is our way of finding the best songs and artists each year. Just list the show number, and the name of as many bands in the episode as you like. Your vote helps me create next year's Best Celtic music of 2019 episode. Vote Now!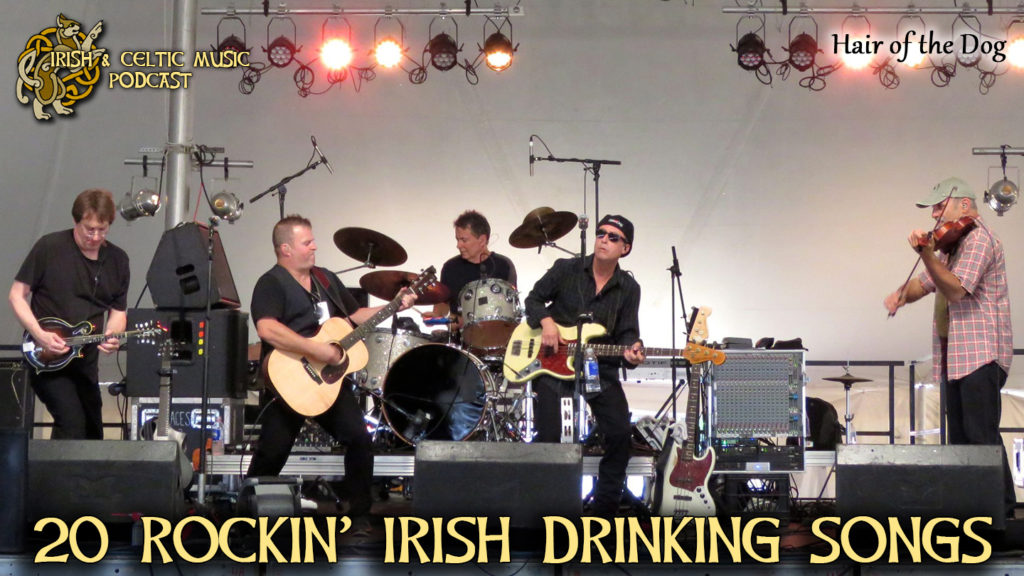 THIS WEEK IN CELTIC MUSIC
0:06 - "All For Me Grog" by The Celtic Kitchen Party from Sociable!
3:15 - "Wild Colonial Boy" by Stout Pounders from Pour Decisions
6:18 - "Raggle Taggle Gypsy" by The Barley Boys from The Days of Abundance
11:14 - "Mrs. McGrath" by Homeland from We Never Got This Far Alone
15:30 - "Drunken Sailor" by Bridgid's Cross from Half Two
18:18 - "Whiskey in a Jar" by Hair of the Dog from Let It Flow
21:11 - "Leaving of Liverpool" by Musical Blades from Up the Ante
24:18 - CELTIC FEEDBACK
27:20 - "Old Dun Cow" by Ceann from Making Friends
30:58 - "Black & Tans" by Boston Blackthorne from County Kerry to Kerry Park
34:14 - "Wind That Shakes the Barley" by The Brazen Heads from Who's Your Paddy
37:30 - "All Around My Hat" by St. Jame's Gate from Happy Life
41:09 - "Star of the County Down" by Bangers and Mash from Quicksand Cafe
43:25 - "Spancil Hill" by Rebels and Sinners from Day's Just Begun
47:30 - CELTIC PODCAST NEWS
49:01 - "Rocky Road to Dublin" by The Fighting Jamesons from Every Day Above Ground
52:38 - "Tim Finegan's Wake" by Barleyjuice from Six Yanks
56:39 - "7 Drunkin Nights" by Bourbon & Shamrocks from Shocks & ARRRR!
1:01:14 - "Wild Rover" by Battlelegs from Lost My Shoes
1:05:46 - "Whiskey You're the Devil" by Sgian Dubh from Frightening All the Dogs
1:10:24 - "Follow Me Up to Carlow" by Screaming Orphans from Taproom
The Irish & Celtic Music Podcast was produced by Marc Gunn, The Celtfather. To subscribe, go to Apple Podcasts or to our website where you can become a Patron of the Podcast for as little as $1 per episode. Promote Celtic culture through music at http://celticmusicpodcast.com/.
CELTIC PODCAST NEWS
* Helping you celebrate Celtic culture through music. My name is Marc Gunn. I am a Celtic musician and podcaster. This show is dedicated to the indie Celtic musicians. I want to ask you to support these artists. Share the show with your friends. And find more episodes at celticmusicpodcast.com. You can also support this podcast on Patreon.
FairPlé aims to achieve gender balance in the production, performance, promotion, and development of Irish traditional and folk music. They advocate for equal opportunity and balanced representation for all. Visit their website for more details about this great organization.
TRAVEL WITH CELTIC INVASION VACATIONS
Every year, I take a small group of Celtic music fans on the relaxing adventure of a lifetime. We don't see everything. Instead, we stay in one area. We get to know the region through it's culture, history, and legends. You can join us with an auditory and visual adventure through podcasts and videos. Join the invasion at http://celticinvasion.com/
THANK YOU PATRONS OF THE PODCAST!
We hit our 14th year anniversary at the end of July. Your kind and generous support of this show each and every week are the reason it still exists after 14 years.
There are many ways to support the Irish & Celtic Music Podcast, throughs donation, buying bumper sticker, pint glasses or t-shirts. But the best way of all is to become a Patron of the Podcast.
You can make a pledge of a dollar or more per episode and cap how much you want to spend each month. Your generosity funds the creation, promotion and production of the show. It allows us to attract new listeners and to help our community grow. And you also get episodes before regular listeners.
And when we hit a milestone, you get an extra-long episode. We are super close to getting a two-hour instrumental special.
You can become a generous Patron of the Podcast at http://patreon.com/celticpodcast.
I want to thank our Patrons of the Podcast: Chris C., Dwayne B., Cathy H., Kevin Leahy, Trevor, Murray F
I WANT YOUR FEEDBACK
What are you doing today while listening to the podcast? You can send a written comment along with a picture of what you're doing while listening. Email a voicemail message to celticpodcast@gmail.com
Robyn Dobbs emailed: "Good morning Marc, on my way to the Scottish Highland Games in Blue Lake, California."
Hester emailed: "Good day. My name is Hester I am from South Africa. I like Celtic music and I was looking for a station that plays Celtic music. I came across your podcasts and I love it so much.
This is really my favourite podcast to listen to even though I don't get to all of them, it is the only thing that I listen to on TuneIn radio. I absolutely love bagpipes, making your podcasts even more special. Thank you for keeping traditional music alive. (Even if it is not my culture) Keep up the good work."
Adriana Sanroman emailed: "Hello from Mexico! I have enjoyed your podcast from the very first year and I really did love the last episode with Jesse Ferguson. In fact, the guest episodes have been amazing. I usually listen to you while working, I work as an archaeological conservator in a field lab in the middle of this hectic city. Thanks for the amazing work and go brágh!"
Beth Hlabse emailed: "I just wanted to thank you, Marc, for episode 418. I really needed something positive in my life right now and this episode definitely was that. Peace"
Kim Knebel emailed: "Dear Marc, Thank you for the countless hours you give to creating these podcasts, keeping up your newsletter and all the other things you do and are involved in. I want to say "bravo" to you for calling out whoever the arse was that had something bad to say about the guest host(ess), Susan, and your efforts to support FairPle. Good music is good music no matter who is playing. Sad but true, women are misrepresented in many venues, have been for quite some time. My mother, who would be 105-6 were she alive, couldn't be the textile designer she wanted to be, because that was a man's domain in her era. So, I thank you and all those who are working to gain more recognition for women in the arts and in general. Slainte!"